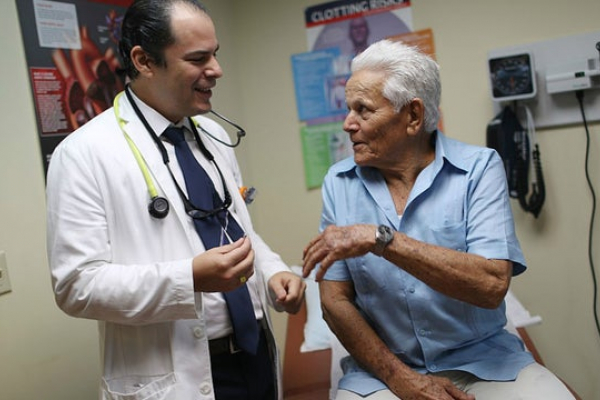 Getty Images
Poll: Most favor Medicare for All if they can keep their doctors
A majority of voters support "Medicare for all" if they can keep their doctors, even if that means a diminished role for private insurance, a new poll finds. 
The Morning Consult/Politico survey reports that 55 percent of voters support a Medicare for all system when told it would diminish the role of private insurers but that people could keep their doctors. 
When respondents are only told that Medicare for all would diminish the role of private insurers, the share supporting the idea falls to 46 percent. The poll comes as Democratic presidential candidates are battling over how far to go towards a government-run, Medicare-for-all system, and whether to leave a significant role for private insurers. 
Sens. Bernie Sanders (I-Vt.), Elizabeth Warren (D-Mass.) and Kamala Harris(D-Calif.) are all supporting a system of government insurance for everyone, leaving only a very small role for supplemental private insurance. 
Former Vice President Joe Biden and South Bend, Ind., Mayor Pete Buttigieg, by contrast, are supporting giving people the option to get government-run insurance, while also letting private insurance remain for those who want it. 
The poll finds that overall support for Medicare for all — when people are not told anything about private insurers or doctors — is 53 percent of voters. 
That includes 77 percent of Democrats, 50 percent of Independents, and 27 percent of Republicans.
BY PETER SULLIVAN
Source: The Hill
View: 3451